Pepper Alexandria Bio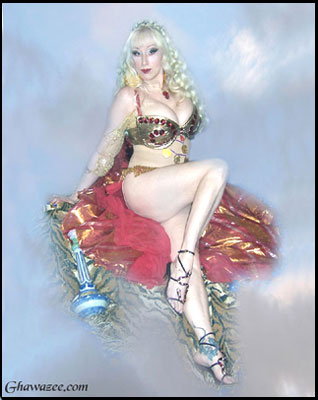 Hailing from Berkeley, California, Pepper Alexandria is
a multi-talented artist and performer. Born and raised in
Tulsa, Oklahoma, she fled screaming as soon as she was
old enough. After a brief detour through Boston,
Massachusetts, New Orleans, Louisiana, and Hollywood,
California, she came to the Bay Area in the late 1960's.
She spent the early days of her residence in the Bay Area
building a huge network of underground celebrity friends.
She had been studying dance since she was six years
old, but at some point during those days, she discovered
Near Eastern dance when she caught a performance by
a Turkish dancer. She was so taken with the style that she
was soon studying under that same dancer, Princess
Ayesha. By 1979, she found herself in Egypt for a month
studying under the famed Banat Maazin Ghawazee of
Luxor. She has done many of the traditional and folkloric
dances of the Near East, but tends to specialize in
classical Egyptian Cabaret, and Banat Maazin style
Ghawazee. She is the director of the premiere Ghawazee
troupe in the United States.
Her dance career has been nothing less than stellar ever since. She never fails to impress as a master teacher, creative choreographer, and designer of dazzling costumes. She is also the producer of many Near Eastern Dance shows. Most recently and notably is "Carnival of Stars TM," which happens every November in Hayward, California, and features many famous stars of the belly dance world and many equally famous Underground cartoonists, combining her two loves.
Alexandria is internationally known and has been honored with numerous awards and accolades including
"Ethnic Dancer of the Year" in 2000. She is the only American dancer to ever be asked to perform for the
Near Eastern Studies Department at U.C. Berkeley. She has performed and taught at countless Belly Dance
conventions and festivals, including Jo Wise's Festival Fantasia in London, England.
She has performed on "Creature Features" with John Stanley as the in-house belly dancer, and is now
reviving that tradition on "Cinema Insomnia" with Mr. Lobo. But one of Alexandria's favorite claims to
belly dancing fame is that she has performed for many of the Bay Area's population of underground
Cartoonists, including Hal Robbins, S. Clay Wilson, Spain Rodriguez, Vaughn Bode, Mark Bode, and
Larry Todd. She has remained friends with many of these gentlemen to this very day, which is probably why
she has earned the illustrious title "The Queen of the Underground."
Having made friends with so many cartoonists, Alexandria posed as a model for many of them, and is the
inspiration for the famous Holly in "Dr. Atomics Comics." She has also worked for Mark Bode making the
famous soft sculpture Bode dolls. Already a painter, couture designer, pattern maker and performing artist,
this series of events led her to choose to widen her field of artistic endeavor to include cartooning and
illustration.
She is the mastermind behind "Belly Dance Comix ®" and "Clone Comics ®." She is also the official
cartoonist for the Gilded Serpent, an online 'zine, and is the cover artist for the Desert Dance Festival.
Alexandria has also created many dance-themed coloring books.
Websites where Alexandria's work can be seen include:
www.ghawazee.com
www.carnivalofstars.com
www.myspace.com/pepperalexandria
www.clonecomics.com
www.bellydancecomix.com
www.bodedolls.com
www.gildedserpent.com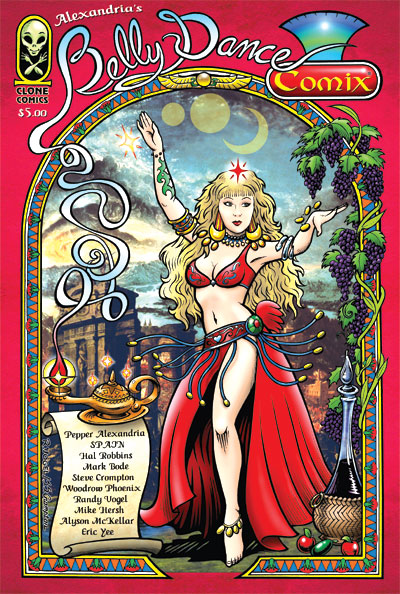 Belly Dance Comics ® $5.00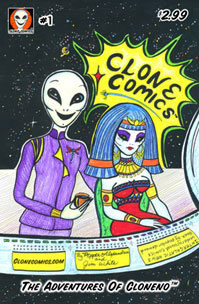 Clone Comics ® #1
$4.00 Postage Paid

BellyDanceComics.com & BellyDanceComix.com
Are Rights Reserved!
Belly Dance Comix ® & Clone Comics ®
Are Registered Marks
of Pepper Alexandria & James E. White
Registered in the United States Patent and Trademark Office.
Copyright 2011.