Artist's Biography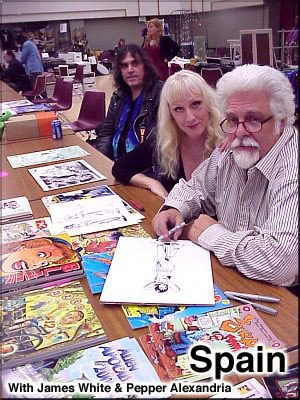 SPAIN RODRIGUEZ, legendary underground cartoonist, and contributor to Zap Comix and many other classic titles, also created the first underground tabloid, Zodiac Mindwarp. His character Trashman, Agent of the Sixth International, was an icon in underground newspapers of the '60s and is in print today in Trashman Lives! Big Bitch, another popular Spain character, appears in She Comics. Spain's work currently appears in the online graphic novel Dark Hotel, at sfgate.com, the LA Weekley and Blab. His graphic novel, Nightmare Alley, was recently lauded by Time Magazine. www.spainrodriguez.com
HARRY S. ROBINS is an illustrator and internationally known comic book artist, whose recent collaboration with Spain Rodriguez and author Bob Callahan is on the Internet at Salon.com's Dark Hotel site.
He is also by turns a writer of plays, poetry and fiction, an actor, a public performer, a radio broadcaster and a Deacon in the Church of the SubGenius. His voice characterizations may be heard in the controversial and ultra-violent computer game, Half-Life, which in 1998 won the award for Game of the Year. Robins has lived in San Francisco since 1976.
RANDY VOGEL A contributor to Rip Off Comix, he has also appeared in Barbarian Women #3 (California Comics), UG!3K, as well as numerous issues of Demi's Strange Bedfellows for Carnal Comics and Hippy Comix
Hippy Comix, Inc. founder DAN FOGEL fled theatre into the open crotch of Underground Comix. His comics retailing career led to collaborating with Cherry creator Larry Welz, for whom he wrote and edited many comics. He co-created the successful series Cherryâs Jubilee and co-published Cherry Deluxe and current printings. He has also published dozens of Underground artists in many titles, including S. Clay Wilson, Spain, Kieron Dwyer, and Los Bros. Hernandez. His current project is Fogel's Underground Comic Book Price Guide. He lives with his wife Kim, daughter Paula Judith, over 20,000 comics, and hundreds of stuffed animals that plot against him. www.hippycomix.com
Mark Bode was born in Utica, New York. He is the son of the legendary cartoonist Vaughn Bode.
Mark is best known for his work on COBALT 60 and as the creator of the hit comic Miami Mice.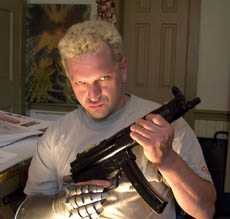 Bode attended The Art School in Oakland, California. His first professional job was for Heavy Metal Magazine when he was asked to color his father's black and white strip Zooks, the First Lizard in Orbit when he was fifteen. He was a fine arts major at The School of Visual Arts in New York City and studied animation and etching at San Francisco State University. His publications include GYRO COMICS, TEENAGE MUTANT NINJA TURTLES, COBALT 60 (the graphic novel), GWAR comics and LIZARD of OZ.
In his spare time, of which there isn't much, Mark occasionally performs the Bode cartoon concert, teaches art, plays New Orleans style piano and zydeco accordian.
In the near 30 years of Mark's professional career as an artist, Marks work has appeared in HEAVY METAL, EPIC MAGAZINE, PENTHOUSE, HUSTLER , GAUNTLET MAGAZINE, WHILE YOU WERE SLEEPING , GRAPHOTISM, among many, many other magazines and comics. He has had articles featuring his work in the NEW YORK TIMES, SAN FRANCISCO CHRONICLE, JUXTAPOZ and TABU TATTOO. Marks work has been exhibited in the New Museum of Contemporary Art in New York, the Psychedelic Solution Gallery in New York, Upper Payground Gallery in San Francisco, and has had art shows abroad in Berlin, London, Milan and Barcelona.
Mark has designed multiple vinyl toys based on his fathers characters for Kidrobot and Mike Company in Japan and now Planet 6 in New York.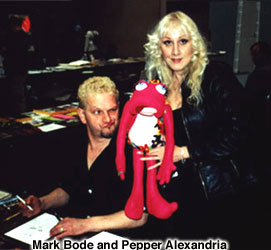 Mark has worked with major clothing companies and has produced very popular Bode crossover lines of clothes for Marc Ecko clothing, and most recently and ongoing "Puma International " where he has designed the Cheech Wizard Puma gear that is on multiple hot pic lists internationally.
Mark has just signed a deal with Universal pictures for the rights to "COBALT 60" to be produced as a live action movie, directed by Zack Snyder of " 300" and "Dawn of the Dead (the remake)" fame. Mark is working on another chapter in the Cobalt 60 story.
www.markbode.com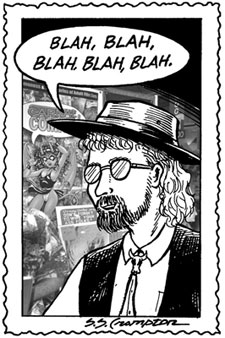 Steve Crompton is the main artist for Demi & publisher of Carnal Comics. He's also had his work published by Eros Comix, Mu Press, Rip Off Press, Cry for Dawn, Kitchen Sink & others.
With over 50 comics to his credit, he's drawn stories starring Cherry, Mauvette, Jenna Jameson, Tracey Adams, Letha Weapons, Aurora Snow, Supernatural Law, Eric Clapton & Ross Perot.
See some of his stuff at www.Demicomix.com
www.stevecrompton.com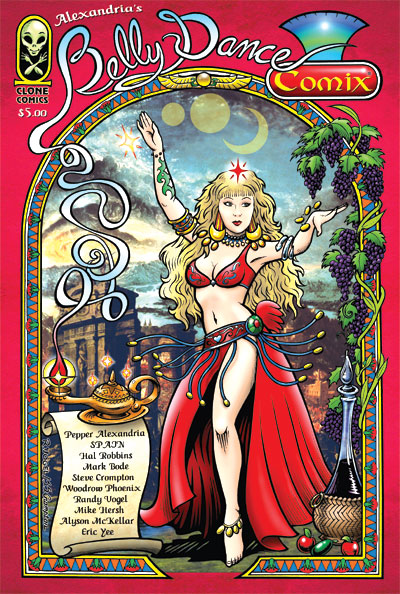 Belly Dance Comics ® $5.00






Clone Comics ® #1
$4.00 Postage Paid

BellyDanceComics.com & BellyDanceComix.com
Are Rights Reserved!
Belly Dance Comix ® & Clone Comics ®
Are Registered Marks
of Pepper Alexandria & James E. White
Registered in the United States Patent and Trademark Office.
Copyright 2011.